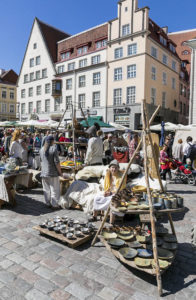 Estonian Folkart and Handicraft Union reserves rights to choose master and artisans, who can participate Medieval Festival.
We will start accepting requests to participate in the fair from April 24 to May 24. Newcomers are asked to send a brief introduction of their company, product descriptions, homepage and some photos to info@folkart.ee.
The commission will make a final decision by May 29. The answer will be communicated by e-mail.
Handicraft Union takes in to account the natural of theme of the year, quality of goods, etc.
---
All our events have some identified theme- this expects participation of traders-costumes, displays, goods and how to behave on scene.
Outfit- medieval costumes. Please, add headcaps and outerwear.
Display have to accord to theme. Please, send measurements before Your arriving. Boxes and bags have to be medieval as well. Baskets, wooden cases etc. are accepted.
There are many traders, but our sales space is pretty small. Please, honour dimensions.
"Word of honour of trader was stronger then written contract in medieval times. Let`s keep this principle in honour!"
"Tsunfts supported masters and artisans always. There was only two occasions, when there was no support- when artisan was drunkard or if artisan was lazy."
We offer some paperbags – those have been made by homeless and unemployed people in Social Service Centers. All materials are reused. Please, ask from organizers!
---