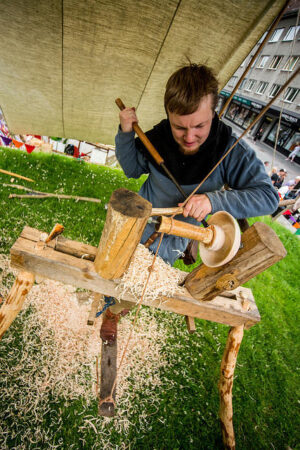 From 8th to 11th of July AD 2021, the Medieval Village on Niguliste Hill will rise again for four days. 
All worthy masters will gather on Niguliste Hill to show their skills to the townspeople and make good things.
The masters of the rattling Workshops spin the rope, the blacksmiths forge iron, and there is also a giant blacksmith's bellows. Blacksmiths spin with spindles and do other finer needlework. The masters of the Wanakuramuse Nahakamber make everything you need from leather. If you need it, you can also buy a mask to protect against diseases. If you wish, you can also try your hand at making leather jewelry.
Skillful glass master Laura shows how wonderful glass jewelry is made.
The highly acclaimed Edev Eremit is present to show the townspeople what miracles can be made of wood! Carpenter Peter shows how to shape a spoon and together with this Martin you can make animals yourself.
A squad of archers led by the world-famous mistress Katarina shows how one real sharp eye must aim for the mark!
Craft club Raudrohi teaches everyone the finer art of embroidery. Together with the queens, you can try your hand at braiding ribbons and doll work.
Lonkava Hundi Koda is once again present with carpenters, fighters, and wise queens. An explanation can also be asked about medieval life.
Hunters from distant lands bring wonderful skins and bone artifacts! A smart queen Aija is also coming, who knows the art of painting with plants!
Wonderful silver jewelry is offered by Argentum Sorbus silversmiths who came from far away.
A medieval hairdresser works, you can braid pigtails and a wreath!
The children are taught in the Little Knight School.
Skilled ladies braid ribbons and do finer needlework. The artist Michael has also promised to stop by and tell a bit about painting and there also will be dancing!
Everybody is welcome!